Woodworking Classes Near Me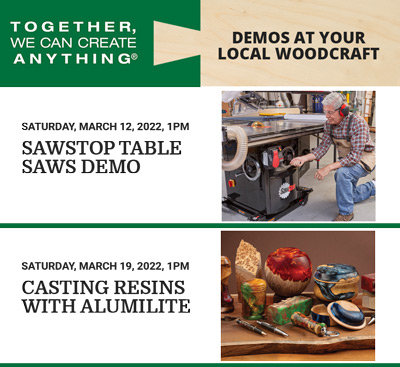 Our Workshop Is Your Classroom
Woodworking classes at Woodcraft are a great place to learn the basics of woodworking or expand your skills and learn new techniques in an area of woodworking that interests you.
Classes are offered by many local Woodcraft Stores and cover a wide range of topics: carving, hand plane basics, woodturning/lathe basics, making pen kits, turning bowls, working with epoxies and resins, sanding and finishing/staining techniques, recycling or upcycling furniture, veneering, making cabinets, furniture and other large projects.
Classes include the basics of project planning, safety in the workshop, including dust collection and proper PPE, basic woodworking techniques, loads of how-to's and tips, plus cool new techniques and projects.

Demos at Your Local Woodcraft
Interested in learning more about a particular area of woodworking, or a particular tool? Keep an eye out for our Monthly Demos–at your local Woodcraft. Check the link at right for more info!
Woodworkers love to share their love of woodworking, and our friendly staff, with the occasional guest instructor, is no different. Learn in a friendly, safe, environment and experience the joy of transforming a piece of wood into your own creative vision. Make it–and take it home!

Check your local Woodcraft location and see what classes are available–and get signed up–today!
All Locations By State
Alabama

Arizona

California

Colorado

Connecticut

Delaware

Florida

Georgia

Hawaii

Idaho

Illinois

Indiana

Iowa

Kansas

Kentucky

Maryland

Massachusetts

Michigan

Minnesota

Missouri

Nebraska

New Hampshire

New York

Nevada

North Carolina

Ohio

Oklahoma

Oregon

Pennsylvania

South Carolina

Tennessee

Texas

Utah

Virginia

Washington

West Virginia

Wisconsin
Check Out a Few of Our Quick Start Guides